The continuing Travels of Zelpha and Woody.
The week of Thanksgiving, Kevin was working at a client site in Jacksonville.  On Tuesday, Althea  flew into Orlando.  Kevin drove down after work on Wednesday so they could spend the weekend together.
Thursday, they went to C-world.  We were unable to locate A-world and B-World so we settled for C-world.  Seems a lot of average students like marine life cause there was LOTs of it at C-World.  Including Shamu.
<![if !vml]>
<![endif]>
Shamu says Hi.
<![if !vml]>
<![endif]>
Isn't the audience supposed to applaud?
<![if !vml]>
<![endif]>
A flamingo checks Althea out.
<![if !vml]>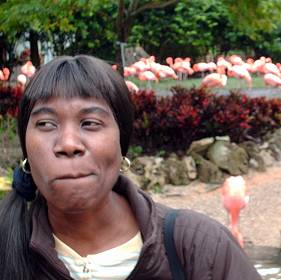 <![endif]>
And Althea checks out the flamingo (mmmm HUGE drumsticks and tastes like chicken…)
Later we went to a Disney building devoted entirely to games and restaurants.  Althea 'thought' she was trying on a new hat.  Actually it was a Virtual Reality game.  We discovered that Althea should NOT drive combat vehicles on other planets.  Kevin was only marginally better with a sword and with a plasma gun.
Because fighting aliens and super-villains works up an appetite, we then went to Wolfgang Puck for Thanksgiving dinner.  The food was great even if there was WAAAYYY to much of it.  The menu would have made America's  Next Top Chef proud. 
We concluded the evening by attending the Cirque de Soleil.  If you have not seen it, at times it seems there is too much going on in front of you to really see it all.
<![if !vml]>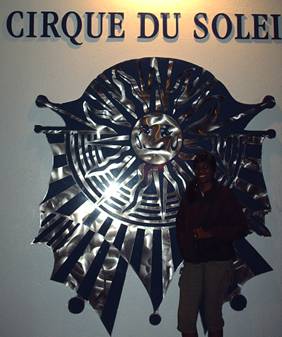 <![endif]>
The next day we went to Universal.  So we have been to Universal on both coasts.  We had fun going on numerous rides and seeing the various attractions.  We finished the day having Jamaican food at Bob Marley's restaurant.  Althea kept looking around for him to come out.  I did not have the heart to tell her he probably was not there that evening  J
<![if !vml]>
<![endif]>
OK – if they are called 'sea-cows' how do you milk them???
<![if !vml]>
<![endif]>
Kevin – checking out some 'tail'
<![if !vml]>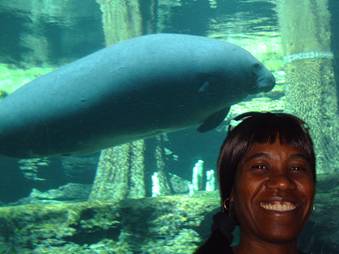 <![endif]>
Checking to see if Althea washed her hair…
We spent the rest of the weekend in various parks and generally doing tourist type things.  Then back to work  L
<![if !vml]>
<![endif]>
Althea thought this was the front door to Jamaica
<![if !vml]><![endif]>

Althea hanging out with Bob Marley

<![if !vml]><![endif]>

Woody and Bob wave to the crowd after jamming together
<![if !vml]>
<![endif]>
Althea discovers Atlantis
<![if !vml]>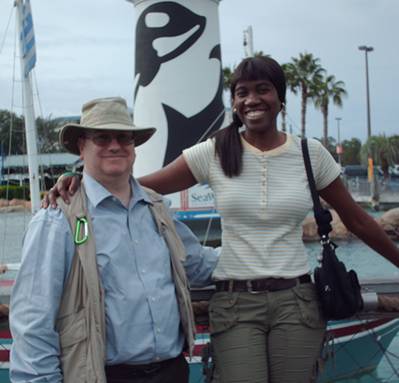 <![endif]>
Hey – Lady – wanna check out my lighthouse???
<![if !vml]>
<![endif]>
So you think this hat make me look fat?